Services
PLEASE BE PATIENT WE ARE MAKING SOME CHANGES & UPDATING!
Facials
Bombshell Facial - $85
24kt Gold Collagen Mask, your choice of collagen eye treatment OR lip mask AND a paraffin hand treatment to smooth out fine lines and wrinkles.
Also includes:
Collagen
Hylauronic Acid
Led technology used for firming and tightening
Acne Treatment/Teen Facial-$45
Chemical Peels-$65

includes enzymes, light peels
and light Jessners
Upgraded Peels -$85 includes TCA, Moderate
Jessners, Deep Herbal Sea Peel
The Perfect Derma Peel-

requires consult
Gentle pulses of light that reaches the collagen layer causing the collagen to react and renew. Brightens and tightens skin tone, reduces redness in skin associated with rosacea, broken capillaries, helps age spots and wrinkles and pore reduction. ( a series of 8 is recommended and can be purchased up front at a discounted rate.)
Derma-Lift RF (Radio Frequency & LED Technology)-$99
A energy treatment with IPL, for tightening of early signs of loose sagging skin. I deal for clients who don't want or believe in having surgical procedures. Best suited for clients in their mid 30's to 50's. While it tightens and regenerates the collagen and facial tissues underneath it also evens out skin tone. Treatment includes forehead, under eyes, cheeks, mid-face, jawline, neck and decollet'e area. Painless and no "downtime". Recommended 8 to 10 treatments every 2 weeks. Discounted packages available. (If you have a pacemaker, defibrillator or metal plates or pins, and are pregnant or nursing cannot have treatment.) Must sign a waiver after consultation.
Microdermabrasion - $85
MICRODERMABRASION WITH OXYGEN INFUSION ADD $20
HYDRA-DERMABRASION ADD $15
All the great benefits of microderm with a added bonus our oxygen infusion machine adds vitamins, plumping
and hydrating serums customized to you for a more youthful glow.
Chemical and Enzyme Peels
Starting at $65 alone

Starting at $20 if added to any Facial or Microdermabrasion
Waxing
Brow - $15
Lip - $12
Chin - $12
Sideburns - $15
Bikini - $35
French Bikini - $45
Brazilian - $65
Full Leg - $55
Half Leg - $35
Chest - $30
Back - $40
Underarm - $20
Arms - $35
Cosmetic Services
Special Occasion Makeup - $35
Includes lashes (not lash extensions)
Airbrush makeup
Herbal Therapy Foot Soaks
Choose from:
Relaxing
Energizing
Detoxifying
Includes pariffin hand treatment, leg and foot massage.
Starting at $35 alone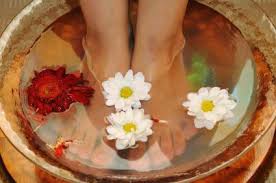 $22 if added to a facial treatment
$20 when a chemical foot peel is added
Specialty Services
Ear Candling - $50